Regular price
Sale price
$45.99 USD
Unit price
per
Sale
Sold out
Share
Multifunction:  The nonstick frying pan is suitable for Deep Fried, Light Pressure Cooking, Steam, Boil, Decoct, Bake, Stir and Hotpot. You can even use it to steam vegetables. It makes cooking fun and inventive.

Preheat Function:  The front end of the fry pan handle has a temperature indicator. Indicator is red in front, then change white when oil temperature ≥150℃. You can know exactly when the pan is ready to cook.  It help control the heat and prevent nutrient loss.  Unlike traditional frying pan, it allows you to cook with less oil or butter. Ideal for over low to medium heat with less oil or butter for healthy diet. The pan is suitable for 2-4 person.

Save Cooking Time:  The nonstick deep skillet with lid and comes with a 10 KPA micro pressure valve on the fringe, when your dish require to stew, it will speed up as much as 40%-50% compare to ordinary carbon steel and cast iron frying pan, great for saving cooking time during your busy schedule. The lid can firmly lock the pot body to increase the flavour of food, lock the moisture and increase meat tenderness.

Certified Nonstick Coating:  This nonstick frying pans is made of 7 layers of materials. The inner titanium coating ensures the food does not stick and it's very easy to wash.  All materials are 100% Free of PFAS, PFOA, GenX, APEO, lead or cadmium.  No need to worry about toxic substances and coatings falling off.

Exclusive Design:  The fry pan is designed by the state of art architect.  Pan bottom comes with diamond pattern and stainless steel 5-layer compound bottom that gives faster heating. The heat conduction efficiency can be 3x higher than the efficiency of ordinary pan's bottom.

Silicone Glass Lid:  The pan lid is heat and shatter resistant which prevents splatters, the rubber gasket on the lid provide safety fit and will not slip.  It seals in the flavor and nutrients for a healthier and better tasting food, also the transparent glass lid allow to view the food easily, ergonomic handle and knob is nice to grip, easy to maneuver.  If you want to clean rubber rounding around the lid, you can sprinkle baking soda and brush it, smell will go away in no time.

Detachable Handle & Easy Storage:  The chef pan handle adopts an invisible screw, which makes it easy to disassemble during wash. No tools required & No rust!! the wok sets works on all cooking ranges such as gas, electric, ceramic, and induction.

Package & Size:  1 x 7.6 lbs. Aluminum Deep Frying Pan (11" x 9.4" x 3.3"), 1 x Gift Box, 1 x Pot Lid, 1 x Silicone Spatula, 1 x Nonstick wok steamer grid, 1 x Nonstick silicone pad, 1 x Installation Instruction

Tip:  When you first receive the new induction nonstick wok pan with lid, use warm water to clean, avoid using stainless steel scrubbing balls. Then wipe the body of the pot with oil, the nonstick coating preserve better over time. Always keep in mind, do not use high heat during cooking.
View full details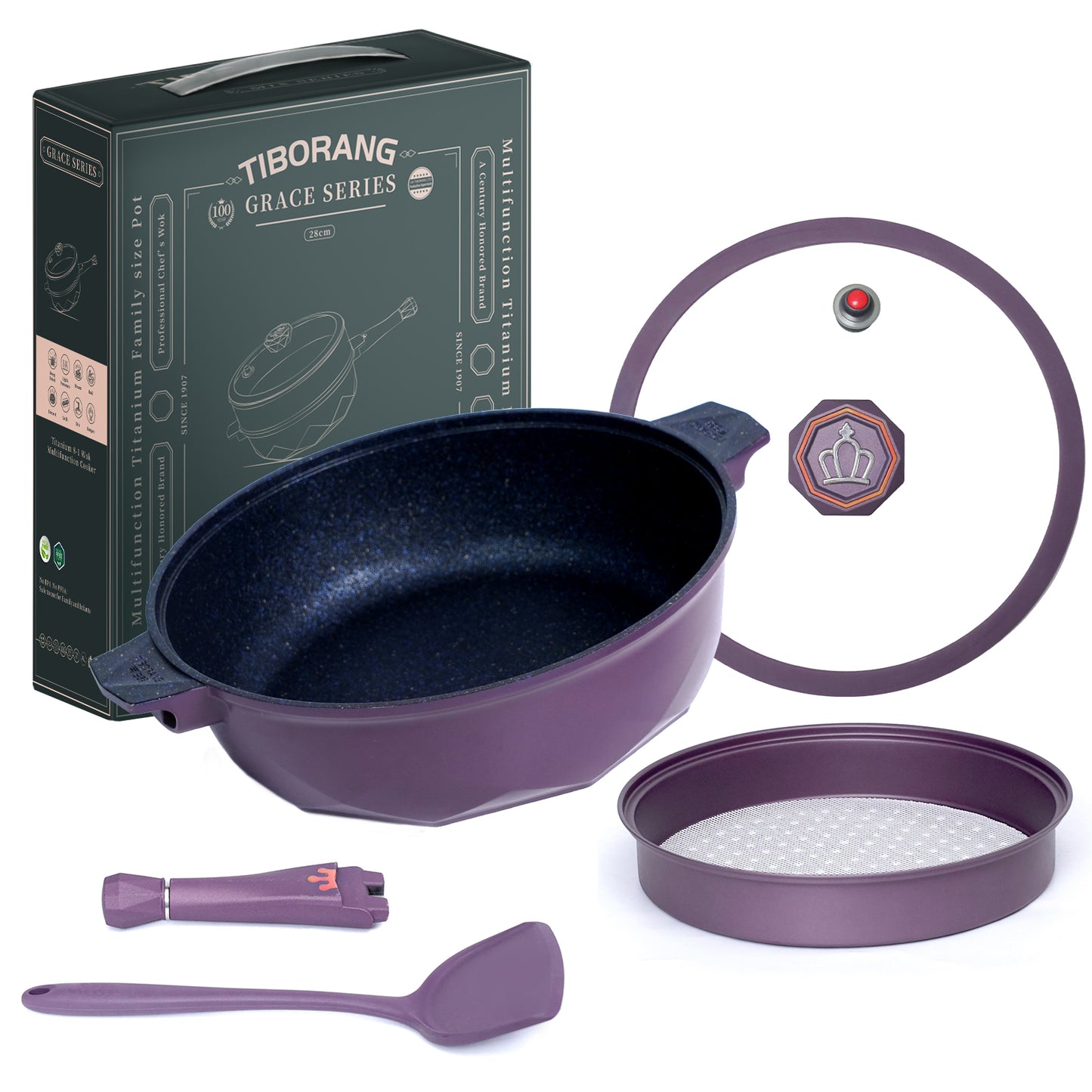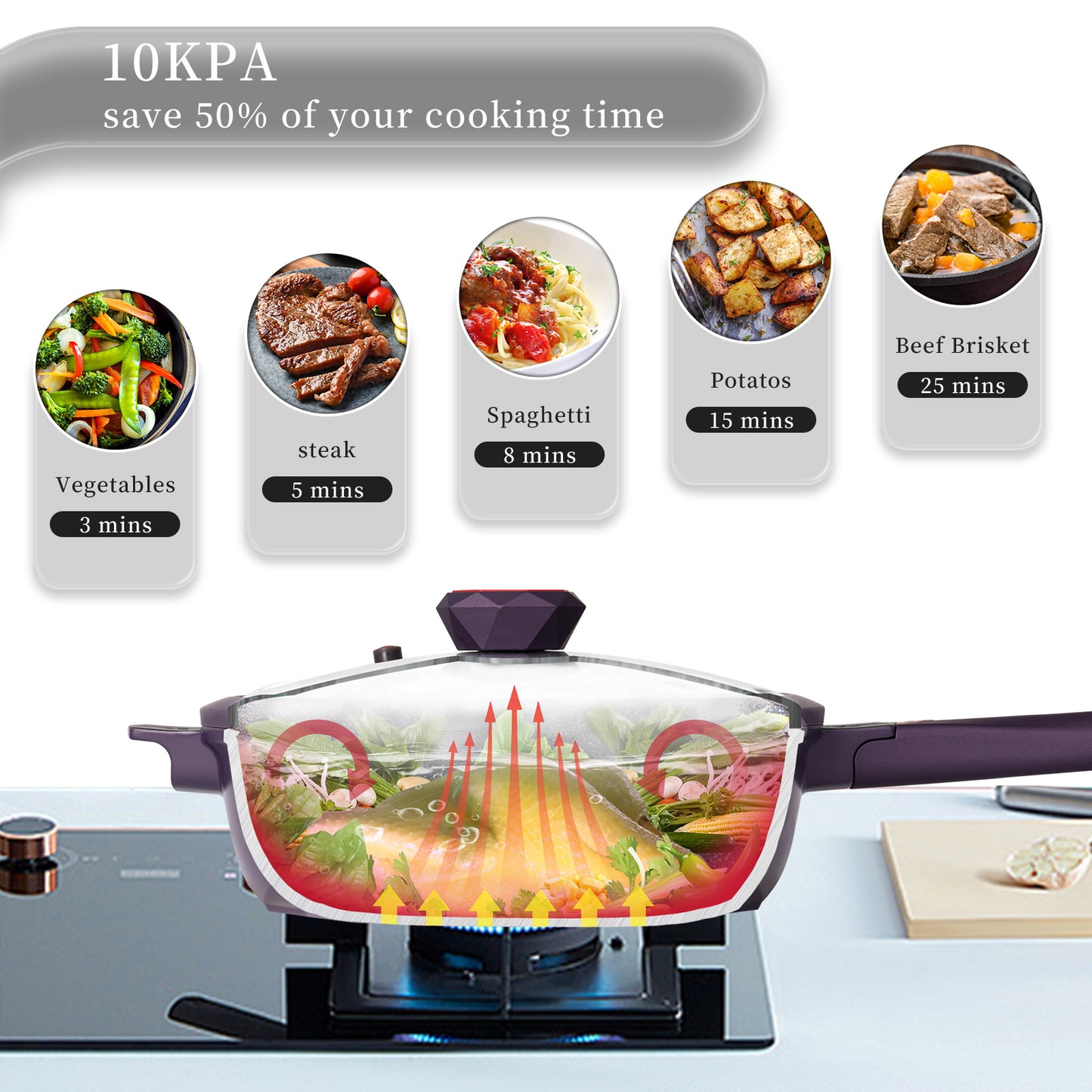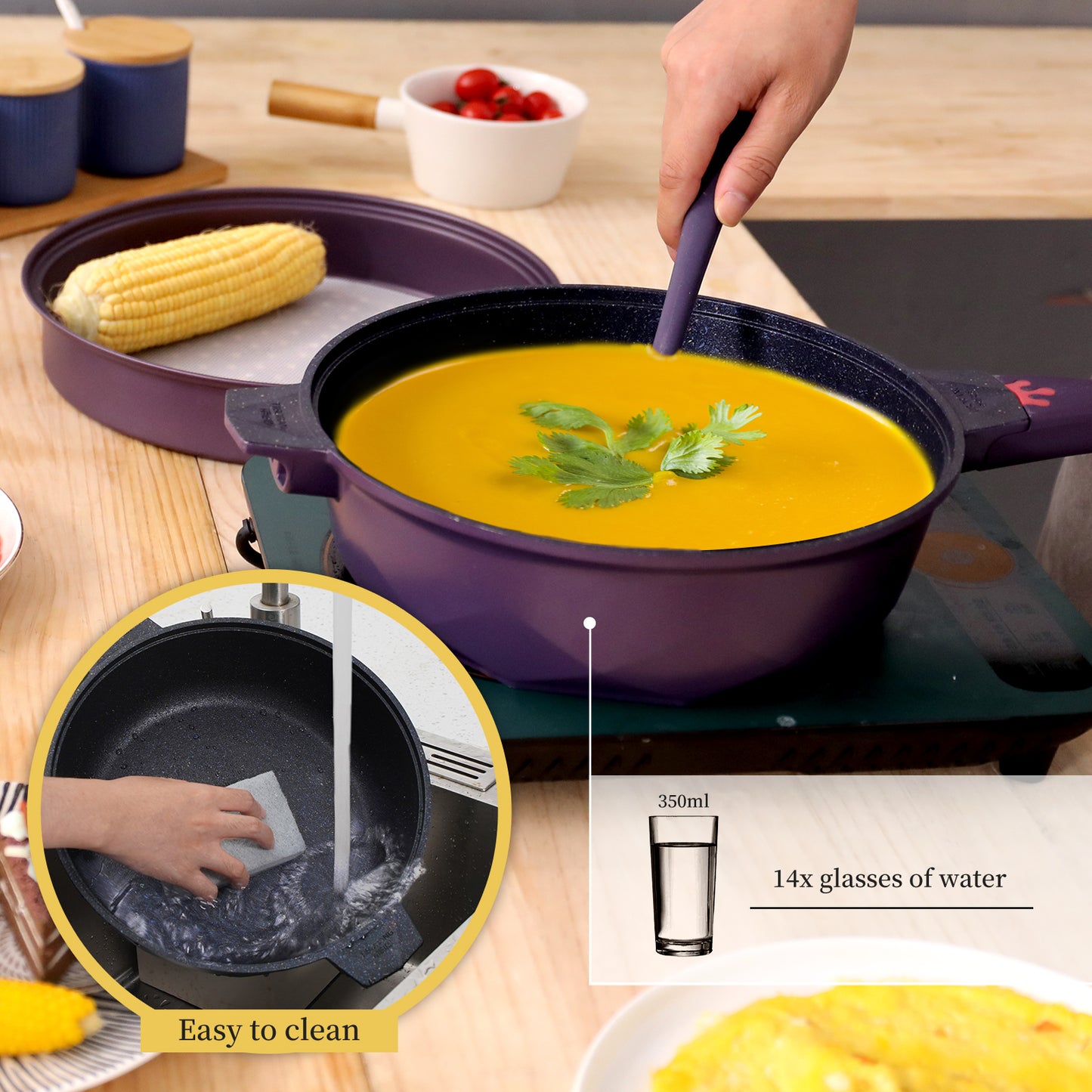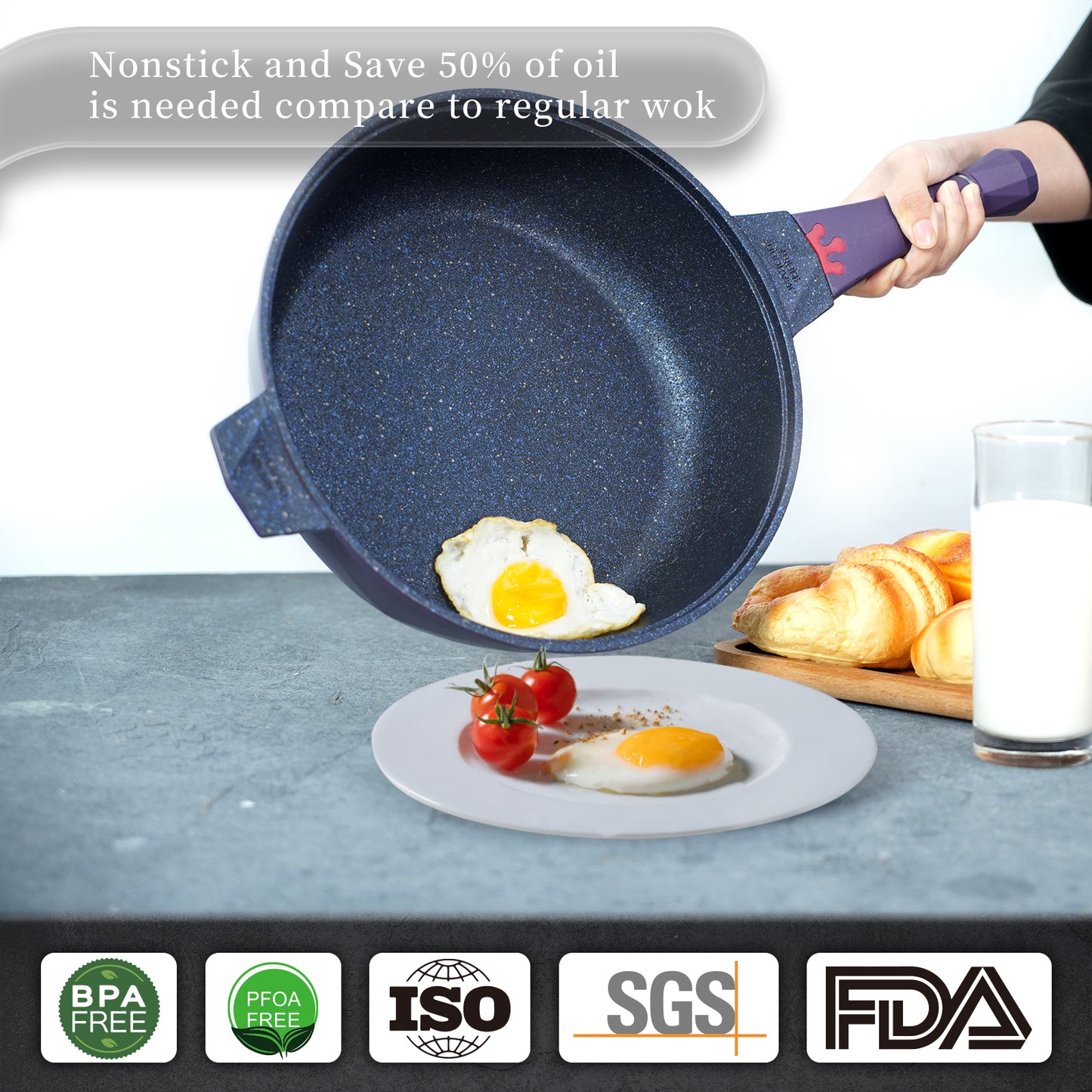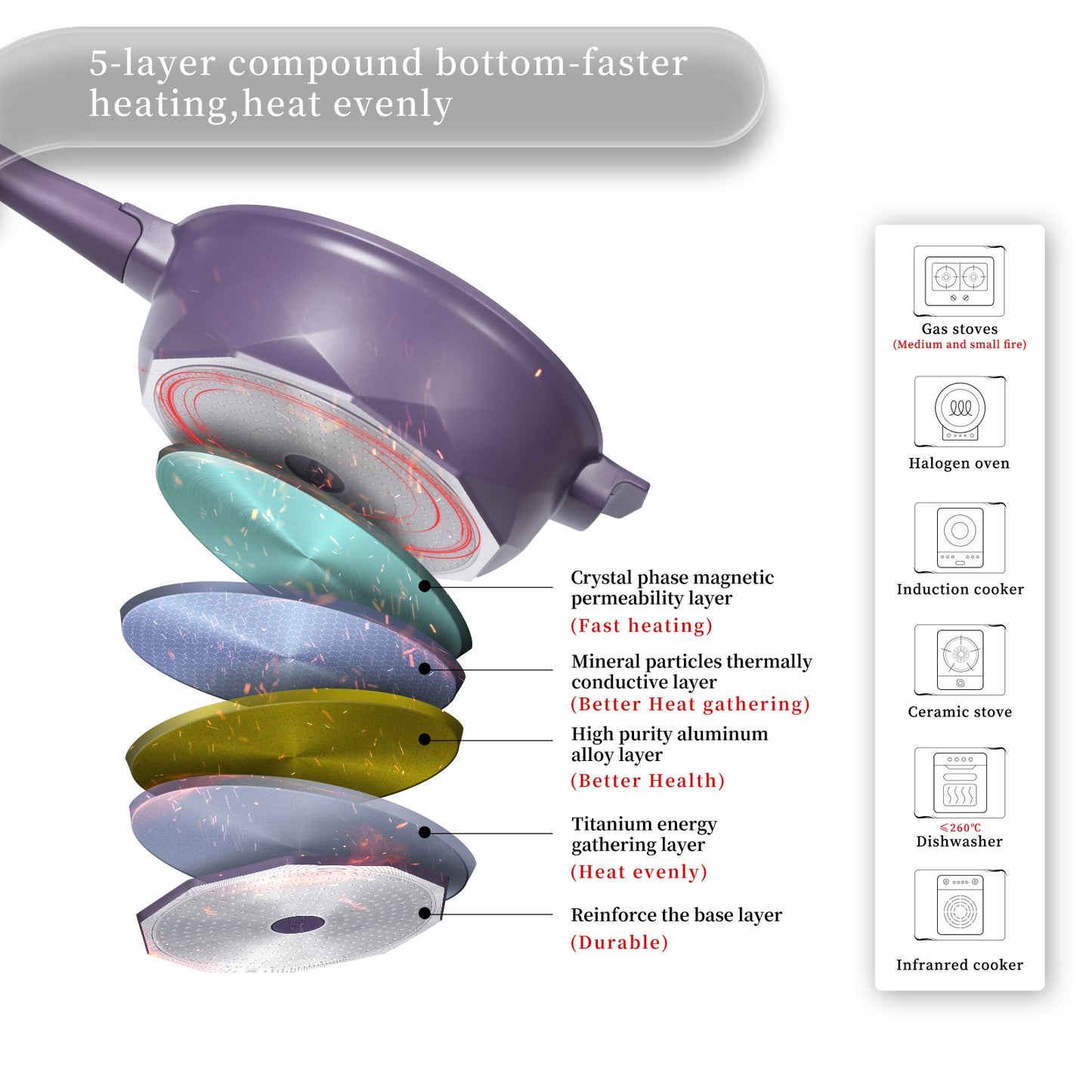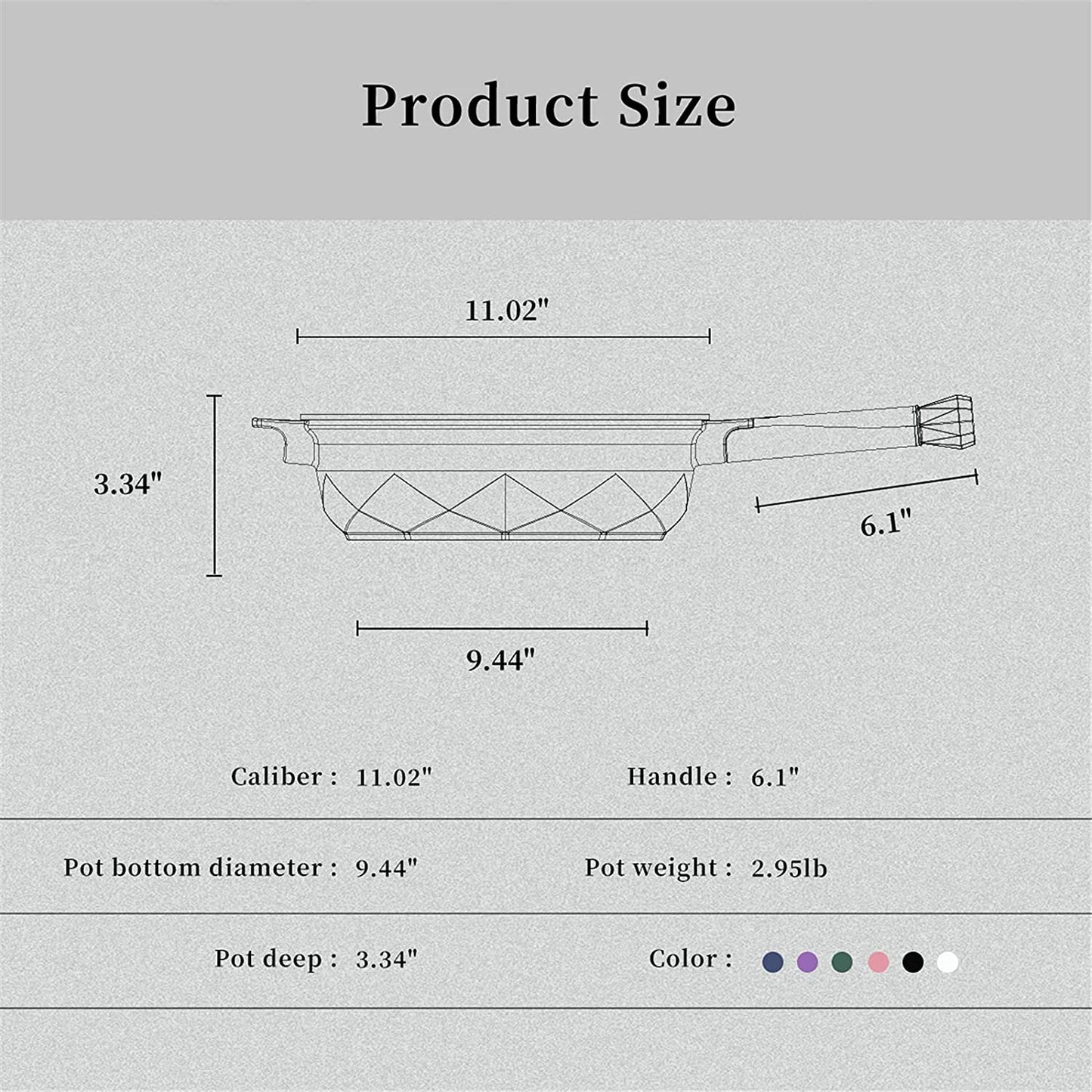 Returns

We have a 30-day return policy, which means you have 30 days after receiving your item to request a return.
Thank You for Shopping with us.
Your support is our strength to move forward.